Portable Sink Rental Fairview Heights, O'Fallon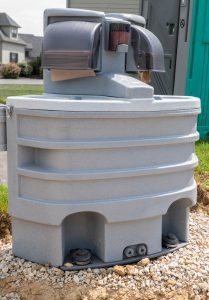 A portable hand washing station is one of the best additions you can make to your portable restroom rental. Considering all the events of recent years dealing with the Covid-19 pandemic and the extra care many people have been taking to ensure their hands are cleaned and properly sanitized, your guests will undoubtedly feel way more comfortable knowing that you've provided a station for them to freshen up and sanitize after using a porta potty.
One of the most convenient things about portable sinks is that they can provide high-quality handwashing wherever it might be necessary. As one of the most important first lines of defense against illness, portable hand wash stations are becoming a staple option in places where traditional sinks are not available. Recently, providing a portable handwashing option has slowly but surely become the norm at festivals where food is being served. Although hand sanitizer options are usually an easier alternative, hand washing is still the best way to prevent germs from spreading between individuals. In addition to being useful at outdoor events, high quality portable hand wash stations are the best alternative for indoor settings where traditional sinks are unavailable. An indoor portable handwashing station is a great option for catering, food service applications, medical and health facilities, classrooms and other indoor locations that require hand washing.
Prices are very reasonable, and we would love to connect you with a single unit or multiple units depending upon your need. Let Fairview Heights Portable Restrooms help keep your special event clean and fresh with separate hand wash station options. These stations will give you and your guests an alternative to the traditional hand sanitizer dispenser that comes standard in all of our special event portable toilets. Paper towel and soap dispensers are always stocked to ensure that your guests have everything they need. Indoor portable sinks can act as a traditional sink but provide the versatility of easy mobility for handwashing wherever it is needed. Portable hand wash stations are a great option for classrooms, foodservice and other indoor locations. These hand wash stations help to stop the spread of numerous germs by eliminating them through basic hand washing cleanliness. Indoor handwashing stations make it easy for users to wash their hands when: preparing food or eating, giving medication, taking care of someone who's sick or injured, handling garbage, using chemicals, and for use after touching anything that could be contaminated.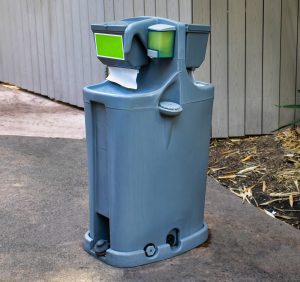 While washing hands with a portable sink might not provide your guests with the exact same handwashing experience a user gets from a traditional sink, It's important to keep in mind that portable hand wash stations are the next best thing compared to traditional sinks in areas where standard handwashing isn't accessible. Luxury Restroom Trailers are a great option too. For all things portable handwashing related, choose the highest rated expertise as well as the best prices. Give us a call at 618-693-2332
Portable Hand Sanitizing Stations in Illinois
Take advantage of our quality products in Shiloh, Swansea, Belleville, Caseyville, Collinsville, or the surrounding areas by calling our friendly portable restroom and portable hand washing professionals at 618-693-2332
We so appreciate your business and are committed to provide you with top quality service from start to finish, satisfaction guaranteed!