Restroom Trailer Rental Fairview Heights IL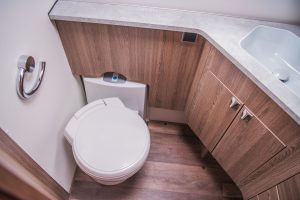 Do you need a portable restroom that's a little bit more on the fancy  side of things and not to mention a bit more secure than your regular old port-o-john rental? Maybe  you've heard some talk about these VIP restroom trailer rentals and are intrigued enough to learn some more about them. There's a reason that Fairview Heights Portable Restrooms is at the top of the food chain when it comes to supplying VIP Restrooms and VIP Restroom Trailers in Illinois. We provide you with access to a complete lineup of full service luxury restroom trailers for you and your party to select from. Simply give us a call and let us know what we have that you might be looking for and the size of your event, and we will help you find the product that best fits your needs. We are more than happy to give you a layout of what we have available for you to choose from. 
In many cases, at specific job sites, especially locations such as construction worksites, having portable restrooms is oftentimes a requirement by the Occupational Safety and Health Administration which oversees regulations for labor. While setting up regular old port-o-johns is fine, having a portable restroom trailer can drastically cut down on lines among workers or guests and help boost your team's morale by providing them with a higher quality restroom experience.
Please don't be shy. Give us a call today at: 618-693-2332
Luxury Bathroom Trailers for Rent
Our VIP Luxury Restroom trailers can provide the complete experience for any customers seeking to offer their event attendees all the comforts of their home in a portable restroom or portable sink. The VIP restroom trailers that we provide all come equipped with lighting, flushable toilets, beautifully designed interiors, mirrors, as well as a clean bathroom facility that will make your guests or clients think they just walked into their own bathroom at home. Going that extra mile with your portable restrooms can also let your guests see your concern for their comfort. Whether it's a corporate fundraiser, an outdoor wedding, or any other event, having a mobile restroom trailer shows off class and provides a more formal presentation. Guests will definitely be impressed with the modern look and additional home comforts provided to them. 
Top Quality Bathroom Trailer Rentals
Fairview Heights Portable Restrooms is the #1 Portable shower trailer, laundry trailer, and portable restroom trailer company in Illinois. We understand you have your fair share of options when it comes to hiring a portable restroom supplier company in Fairview Heights, O'Fallon, Shiloh, Swansea, Belleville and the surrounding areas, and we are committed to showing you why we consider ourselves the superior choice for your portable restroom rental needs.
If you find yourself looking for a luxurious experience wrapped up in a VIP portable bathroom trailer, please give us a call at 618-693-2332
We don't beat around the bush when it comes to pricing, and our service is the best you can find. If you're not convinced yet, then give us a call and please allow us to prove it to you.