Temporary Fencing Fairview Heights, IL
Do you need a way to rent some temporary fencing for added event security or crowd control? No need to worry. All you need to do is give us a call at Fairview Heights Portable Restrooms. We are Illinois's  #1 choice when it comes to the supplying of temporary crowd fences and temporary gates, and we are more than happy to serve you. To find out more and speak to one of our professionals, Call 618-693-2332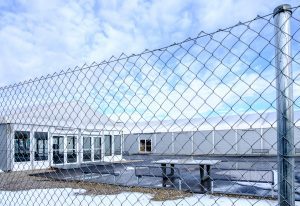 Temporary Fence Rental Company Fairview Heights, IL 
Temporary Fencing is one of many temporary fence solutions available through Fairview Heights Portable Restrooms.
If you're looking for a bit of extra security for your construction site or simply need a way to keep trespassers away from some less secure portions of your property for a short or long period of time, temporary chain link fencing may be exactly what you're looking for.
Crowd Control Barriers available for Rent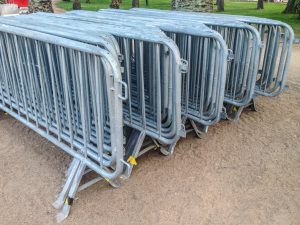 Are you putting together a concert or large scale event? Temporary crowd control barriers are a simple and effective solution to ensure your crowds are flowing smoothly and foot traffic stays well managed. Our team will take all of the hassle out of assembling and arranging your temporary fencing and crowd control barriers from delivery to the desired location, to setting them up and arranging them in their proper place, going all the way to breaking them down and then hauling them away.
 All you have to do is let us know when and where you would like us to set them up and we will take care of the rest. At Fairview Heights Portable Restrooms, our highest priority is providing people with quality service and that means making sure our customers are completely taken care of and completely satisfied with the services we have provided. When you enlist any of our services including but not limited to our temporary fencing provisions in Fairview Heights, Shiloh, Swansea, Collinsville, Washington Park or the surrounding areas in Illinois, our top notch service is guaranteed! No job is too big or too small for us. No order is too big or too small. We have a large variety of services including portable sinks available to meet every need you might have. Whether you're in need of a portable toilet or temporary fencing solution for a small church event or you need a larger amount of temporary fence for a concert, huge convention or city-wide festival, we can handle your order. Our inventory is virtually unlimited, and our desire to make sure you're completely satisfied cannot be matched. 
If we can help you with a temporary fence rental, please give our friendly staff a call today at 618-693-2332
We look forward to hearing from you as well as getting to serve you, and we appreciate your business!